Hi everyone :)
So lately I've been doing an eyelook quite a lot, and thought I would share it with you all!
Here it is:
This look might not quite be your thing, but I personally love it! AND it's really easy.
How did I do it?
Well, most people like to use a primer before using an eyeshadow, but I was actually all out of my Urban Decay Primer potion when I did this look, so I actually didn't use it, but I would recommend that you do.
1. Apply a primer all over the lid. (I reccommend Urban Decay Primer Potion. Also, you don't have to use a primer, mine worked just fine without it!)
2. Apply Make Believe cream eyeshadow by Virgin Vie all over the lid and into the crease.
3. Apply the Shadow colour from Benefits Big Beautiful Eyes pallette all over the lid and in the crease.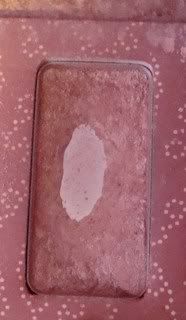 4. Apply black eyeliner along the upper lash line with a flick at the side, and line the lower lashes up to the middle of the pupil. (My favourite eyeliner is Le Crayon Kohl in the shade Noir by Lancome.)
5. Apply lots of Black mascara, (My favourite mascara is the Virtuose mascara by Lancome) and your good to go!
You can change the products I recommended, those were just the ones I find create this look the best.
On the rest of my face I like to wear bronzer, and lots of pink lipgloss!