Hey Everyone:)
Today i'm going to be doing a little drugstore haul. I don't really call it a "drugstore" normally, but thought I would for this post because there's nothing else to call it!
I bought a few things from Superdrug, Boots, and some cotton wool pads from Asda!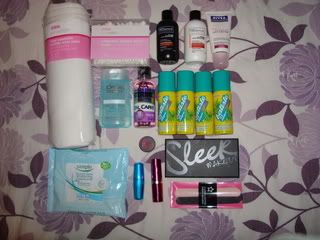 (From Left to Right)
Cotton Wool pads, Cotton wool buds,
Treseme Colour Protect Shampoo,
Treseme Colour Protect Conditioner,
Nivea Day Cream Moisturiser for dry/sensitive skin,
L'OREAL Gentle Eye Remover,
Listerine mouth wash (why did I put that in the photo?! lol),
4 Batiste tropical dry shampoo's,
Simple gentle cleansing wipes,
17 mirror shine Lipstick in the shade "Beehive",
Rimmel London Lipstick in the shade 110 "Pink Gossip",
Sleek Make-up Storm Palette,
and long lasting emery boards from Superdrug.
I bought a lot of little travel sized toiletries because I'm going on holiday on Monday! I actually left two items out of that Haul, I forgot to take a picture, Sorry!
The two other items were, L'oreal Paris Perfect Clean wash for sensitive skin, and the St. Ives apricot scrub! Sorry about that!
I'm going to do a couple of individual reviews on some of those products in the next couple of days. I've not decided if I'm going to take my laptop on holiday yet, so there might be blogposts, and there might not be! Not sure yet.
Thanks everyone! :)x