So the 60 followers giveaway is now officially over!
I am posting this just as it turns Monday morning, just so that I can give the person a bit more time to get into contact with me. I will send the winner an email once i've posted this up J.
Ok, so all together including additional entries, there were 52 entries. So I just went on to random.org and typed in 1 – 52 and this is what came out...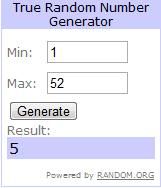 So I went to check on the comments and number 5 was Hannah!
Well done Hannah! You won my 60 followers giveaway J I will be sending you an email asking for your details soon! Yay!
Please don't worry if you didn't win, I will do more giveaways in the future so don't give up all hope!
And I'm sure you will all want to join me in congratulating Hannah in winning this giveaway J
Thanks everyone for reading, and hopefully I will try and do another giveaway soon J
xx