Hi everyone!
So I recently did a blog post about how when I reach 50 followers I will do a giveaway. But since I talked about that, I have gotten up to 63 followers. So, it's a 60 followers competition!
The competition opens today (3 August 2010). And will end on Sunday the 15th of August 12 midnight GMT. Winner will be announced on Monday the 16th of August.
Now on to the prizes!
These are the two prizes the lucky winner will be recieving!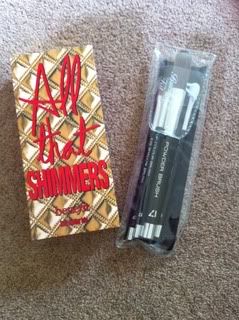 (From L-R) Benefit All That Shimmers Luster Duster trio, and a No. 17 Brush kit.
This is the Benefit All That Shimmers Luster Duster trio.
(Please note that the eyeshadows were only taken out of packaging for photograpic purposes)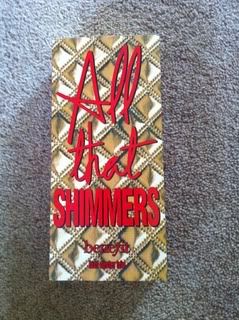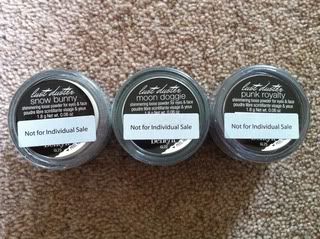 The winner will receive 3 luster dusters, in the shades Snow Bunny, Moon Doggie, and Punk Royalty.
The winner will also receive a No.17 Brush Kit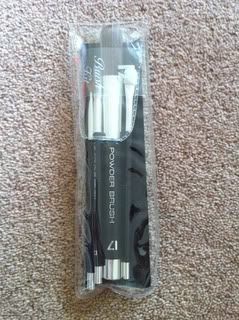 In this kit there are 5 brushes. They are: Powder Brush, Eye shadow Brush, Eye shadow sponge, Eye & Lip liner brush, and a Lip Colour brush.
1.
You must be a follower of the blog.
2. If you are under 18 please get permission from your parents.
3. To enter leave a comment saying "Enter me!"
4. This competition is international
5. The winner will be picked using random.org
Additional Entries
Do a blog post about this giveaway (+1) (Leave a Link below please)
Add a link to it in your side bar (+1)
Tell me your favourite make-up or skincare products ever (+1)
Ok everyone, you can now all enter! Good luck to everyone! If you have any questions about it, leave a comment below and I will reply as quick as possible!
Thanks everyone for following, can't believe we're already at 60 followers!
x