Hi everyone :)
So i've been buying lots of little things recently, so I thought i'd just put them all together and do one big Haul! Yay!
I'm also on a one month shopping ban to stop me from spending all my money! Haha, so this will be the last haul for a month. :(:(:(
So here they are!
Sally Hansen Diamond Shine Base & Top Coat
RRP: £7.99
I love this! It's great to use for a base coat and a top coat! It gives your nails a lovely shine, and keeps the nail polish on! It also makes my nails feel a bit stronger, and chips off a bit less!
Sally Hansen Acetone free Nail Polish Remover
RRP: £ 2.29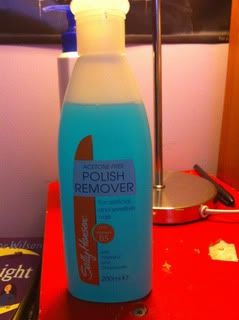 I have to say that this is one of my favourite nail polish removers. I mean, they're all pretty similar, but some make my nails feel really horrible, but I don't find that this has the same effect!
Ms Manicure ClipSnipAway Nail Care Set
RRP: £ 5.99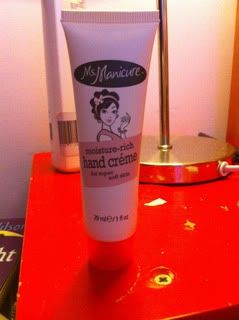 I loove this hand cream! Normally hand creams that come in cheap little manicure sets aren't very nice, but I love this one! It smells... AMAZING.
I do quite like this, it softens up my cuticles so I can push them down more easily!
In the pack I also got a 6 way buffer, but I won't bore you with the picture of it at every single angle, So I will just show you this one side of it!
You get some cuticle pushers in the pack as well to keep those cuticles in tact!
Last but not least, the last thing you get in the back is this little nail clipper to trim down those nails!
This pack is REALLY good value for money, and you get so much for your money, so it's a nice little cheap set to help you to give yourself a manicure!
L'OREAL Kids Sweet Pear Tangle Tamer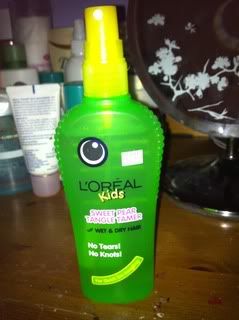 Ok, I know i'm not a Kid. BUT I get really bad knots in my hair when I come out the shower and it's so hard to brush through my hair, and this works really well, and it smells LOVELY. A really strong pear smell. Love it!
Lee Stafford Blow Dry Wonder Spray
RRP: £5.99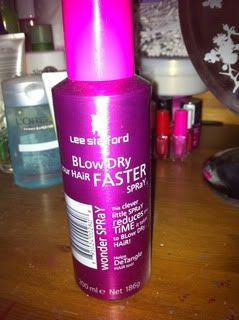 This is supposed to reduce the time it takes to blow dry your hair. Honestly, I found that it doesn't really change the time it takes at all! Maybe like a minute or something, but not really worth it!
Dove Summer Glow
RRP: £3.99
In my opinion, this is the best cheap fake tan you get! It always comes out really evenly, and because it's a gradual tanner, I just use a medium to dark colour, but only use it like once, rather than every day! It always works out really well so I always come back to this one!
L'OREAL Sublime Bronze Self-Tanning wipes
RRP: £2.99
I use these on my face because the dove summer glow clogs up my pores and that's never a good thing! So I like to use these on my face to keep my skin looking nice and tanned!
Maybelline Dream Satin Liquid Foundation
I bought this in a shade that is a lot darker than my natural colour so that I can wear it when I'm wearing fake tan! I always buy expensive foundation in my natural shade, and then when i'm fake tanned I don't have anything that can match my colour, so I thought i'd buy this cheap one!
LUSH Bubblegum Lip scrub
RRP: £3.99
O.M.G. This is the nicest lip scrub i've ever tried! It smells so amazing! Because it's made of sugar and jojoba oil, it's supposed to be edible, but I find that if I do eat it off my lips it leaves my lips feeling kind of sticky, so I try to avoid eating it, and just wipe it off!
Radox Shower Smoothie
I got this free in Company Magazine, but thought i'd just put this in here! It's a slightly smaller bottle than what you'd get if you went out and bought this. I've not tried this yet, but it smells amazing!
YSL Volume Effet Faux Cils Mascara
RRP: £21.00
Wow. This is thee most amazing mascara i've ever used! It smells amazing, which is rare in mascaras! It thickens, lengthens and gives an amazing false lash effect without making your eyelashes feel dry and brittle. I don't think I will ever buy another mascara. It's the best by far! So I definitely recommend!
Bourjois Liner Feuture Liquid eyeliner and Bourjois Pencil Sharpener
(Sorry Image wouldn't upload.)
Ugh. I hate this. I love it at first, but then after TWO days. It dried up. I had to press so hard to get it to work, and then it got all messy and, UGH! I really don't recommend.
I was actually going to get a Benefit Pencil sharpener so that I could sharpen my benefit pencils, but this was wide enough and I just bought it! I'm not sure if it's cheaper or not, but I just bought it anyways, and it does the job!
So that was my BIG collective haul for you all, and I hope you enjoyed, and HOPEFULLY we will get up to 100 followers soon, Yay!
Thanks everyone :)
x