Hi everyone,
This is going to be about the MAC products I bought recently, I was going to put them in the first blog post I did, but I rambled on so much about those two NARS products there was no room! So here's part 2...
Okay, so I bought 2 products. The first being the MAC Creme Blush in the shade Ladyblush.
It's a beautiful pinky colour. This was the first cream blush I have ever tried, and I honestly will not be going back to powder any time soon. It gives such a lovely glow to your skin, and makes it look really dewy. It looks really natural, and makes you look like you have a gorgeous natural radiance. I love this product so much. At first I was a bit concerned that it was hard to blend, but after a couple of uses that problem quickly disappeared. I would recommend this to anyone.
The next product I bought was the MAC Tinted Lip Conditioner, in the shade Petting Pink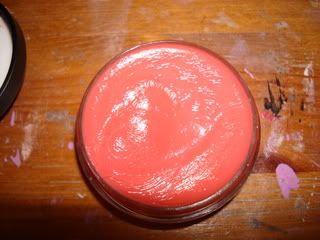 Now, don't worry, I know the picture makes it look a little bit greasy. But it's really not. I bought this first of all because I had heard people saying about how good the MAC tendertones were, and a few people said this was pretty similar. At first swipe I was really disappointed because it looked like it had no pigment whatsoever, but after using it a bit more, more and more colour seemed to show when I used it. If you do pick this up, and you find that its just looking clear on your lips, don't worry! Press it a little harder and after that, the colour will be nice and bright on your lips!
These were my first two MAC products ever, and I have been very pleased with the quality. I'm definitely going to be buying a lot more from them. I have my eye on a Lipstick, and an Eyeshadow. So, you might be getting a quick review on that in the near future!


I have a couple more blog posts organised, and I'll put another one up later today.
Thanks everyone :)