I only actually bought 4 products all together, but I have so much to say... I thought I would split it into two blog posts :) I will start with the NARS product, and then the next post will be the Mac products.
So I only ordered one thing from Nars, but at the time there was a deal on that with every purchase you made, you got a free mini lipgloss duo. I didn't quite realise how "mini" it really was.
This is the way they looked when I took them first out of the packaging :
(I really like putting in lots of unnecessary photos:) )
It was quite a nice surprise when I saw the little lip duo product there, because I totally forgot about it.
The product I actually bought though was their Bronzer in the shade "Laguna". Why did I pick that shade? Because I thought the lightest looked a little light and the darkest looked a little dark. So it was a nice in between.
(Sorry for the blurry images!)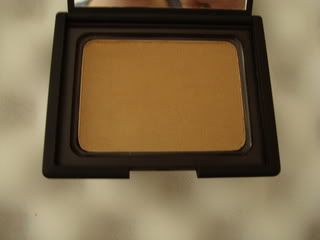 I'm really glad I did pick it. It does, though, have glitter in it, which a lot of people don't seem to like but to be honest I quite like it! I only apply the bronzer to my cheek bones, my temples, the top of my forehead area (Hairline area.) a very light dusting on the nose, and then on the jawline. Oh, and the neck. It's nice to be even :). So I think it looks nice, but some people might not quite like it. It stays on well, and is now, by far, my favourite bronzer! Highly recommend it!
The Lip Duo had two shades of lipgloss in it, the first being Dolce Vita, and the second Striptease.
(Striptease is on the left and Dolce Vita is on the right.)
Dolce vita is a dark red, with a kind of purple undertone. Honestly? I hate it. But that's just because it isn't really my thing. Striptease, however, is a lovely nude lipgloss that looks lovely against tanned skin. Now that's more like it! I am seriously considering picking up a full sized one, but I am really wanting Turkish Delight... what do you think? Comment below:).
This ends part 1, that was a bit of a ramble wasn't it? Oh well, I have a lot to say about only 2 products. I will put up Part 2 soon!
Thanks everyone!