Eeeek!
You've no idea how embarrassingly excited I have been about these 2 eyeshadow palette. One slightly more than the other, but still pretty excited about botttth!
Urban Decay Naked Palette
RRP:£27.00 (I got mine for £24.50 though!)
It comes in LOVELY packaging! It feel like velvet, and the NAKED logo looks really nice with its gold lettering! You also get a mini Primer Potion with the Palette.
In the Palette there are 12 eyshadows and a double sized eyeliner. The black side in shade zero, and the Brown is called Whisky.
Oh my gosh! These colours are so amazing, I love it so much! They are so highly pigmented, and Each colour is so lovely! I don't often go for dramatic eyes, so this will be perfect for everyday use! Plus, The eyeliners are AMAZING. If you get the chance, BUY it! You will not be disappointed. I know you've all heard loads about it, but I just wanted to let you know that I love it too!
Coastal Scents 88 Palette
RRP: £29.99 ( I got mine for £15!)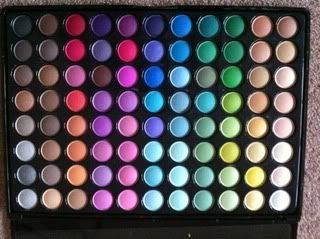 I love this! It's so good for the money! It's so highly pigmented, and it feels like real good quality! It's a nice mixture of calm colours, and crazy colours! Which I really like, because I already have my NAKED Palette for neutral days, and now I have this for days I wanna do something a little crazy with my eyes! Love it, if you can Buy it! It's kinda hard to come across in the UK, but I think you can get it off Amazon!
Thanks everyone :)
Has anyone else picked up these palettes?