Normally I wouldn't do a Haul for only 2 items, but I'm so excited about these so I feel the need to show you these two things I bought!x
Here they are: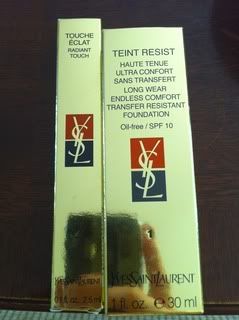 I got the Touche Eclat(AHH!) and the YSL Teint Resist foundation(AH! That's off my wishlist!)
Ok, so I'm so excited about these two! I have been wanting them both for soo long! and I have used them once, and so far i'm in LOVE.
YSL Teint Resist Foundation - Shade 1
RRP: £28.00
So admittedly i've only used this once, but I only got it today! And I only tried it on to test colour, cause I did buy it online! Which isn't what I normally like to do with foundations, but I took a risk, and it's a perfect colour and so far it's lasted well! The real test will be tomorow at school.. I'll keep you updated!
YSL Touche Eclat - Shade 2
RRP: £24.00
Ok, So i've only been used it once too! But it makes my skin look so radient and amazing! I love it! I will keep you updated though about how I get along with it!x
So this was a bit pointless but I just had to tell you how EXCITED I am about these two purchases! I just bought the URBAN DECAY NAKED PALETTE too, so expect a big post about it the second I get it in the post i'm SO excited about that too!
Thanks everyone :)x